A Thanksgiving dinner event with entertainment
Photos of the Event are in this Shared Album
Speech by Dr. Shrenik Shah
Speech by Dolly Vyas-Ahuja who was the chief guest
Highlights of 2018-2019 events shared at the TG2019 event are here.
Date: November 8, 2019
Time: 6:30 PM
Venue: Consulate of India, 3 East 64 Street, New York NY 10065
Please RSVP at  – GiveLively.org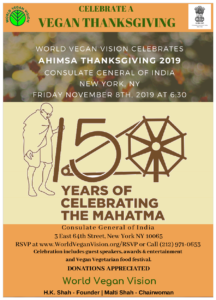 At least one couple was convinced to #GOVEGAN as a result of the programs at  this event. We are so happy to be informed by Mr. Manish and and Mrs. Neelu Dhadda that they have adopted a vegan lifestyle. They have also donated generously to World Vegan Vision. We proudly welcome the Dhaddas to the World Vegan Vision family of supporters.