World Vegan Vision – Mumbai chapter will host a 4 day virtual event.
Please see the below flyers for details. For any questions, contact Dr. Rupa shah at drupashah at gmail.com.
The recordings of this event may be viewed on our Facebook page in this playlist and on YouTube in this playlist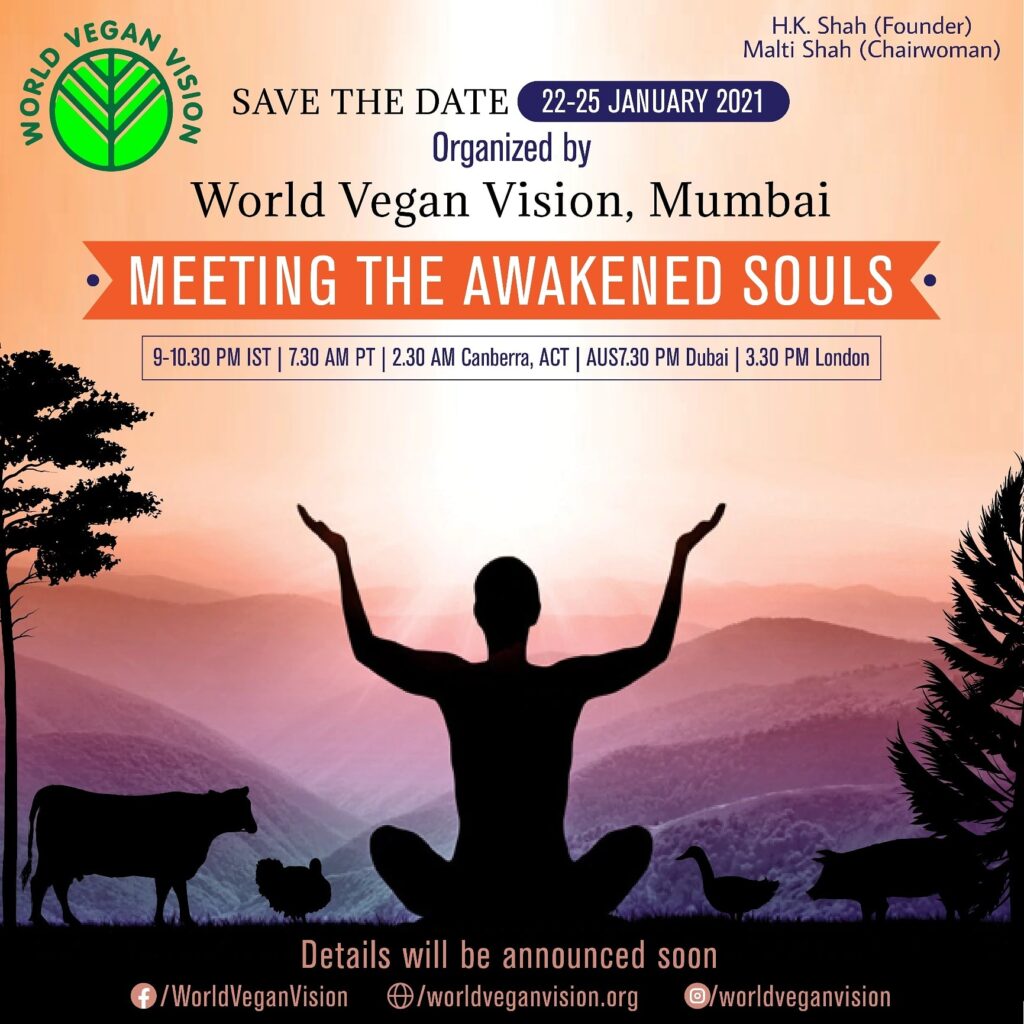 Seminar Series 'Meeting The Awakened Souls'
by World Vegan Vision to be held from 22 January 2021
The year 2020 witnessed upheavals across the world in terms of health and economy. The recent state of disorder has triggered a pall of gloom across the world. While medical practitioners have been called to the forefront, the role of spiritual leaders or spiritual caregivers has come to light in recent times for their holistic spectrum of support to navigate through such times. More people need guidance to access inner balance and grow spiritually and better connect to themselves, and sustain themselves and the environment they live in.
To address these concerns and enable people to reconnect to their personal sense of equanimity, World Vegan Vision, a US-based organization has curated a four-day online seminar series titled, 'Meeting The Awakened Souls'. The discourse will enable all to engage with eminent speakers who will give inspiring talks about the transformative powers of ahimsa and compassion in everyday life. The event has been organized by Mr. H.K. Shah, Founder & Mrs. Malti Shah, Chairwoman, World Vegan Vision and will be held from 22-25 January 2021.
Do not miss the four-day program of inspiration, learning and renewal as we co-create a world that includes compassion for all beings on the planet. The talk focuses on the connection between our relationship with animals, spiritual living, world peace and sustainability.
Each of the four days will feature thought leaders who will share their personal journeys about how they overcame obstacles on the path towards deeper spirituality. They are like awakened masters who can connect a person with keystone insights that can change one's perception dramatically and recalibrate oneself to better cope with the future.
Four-Day Program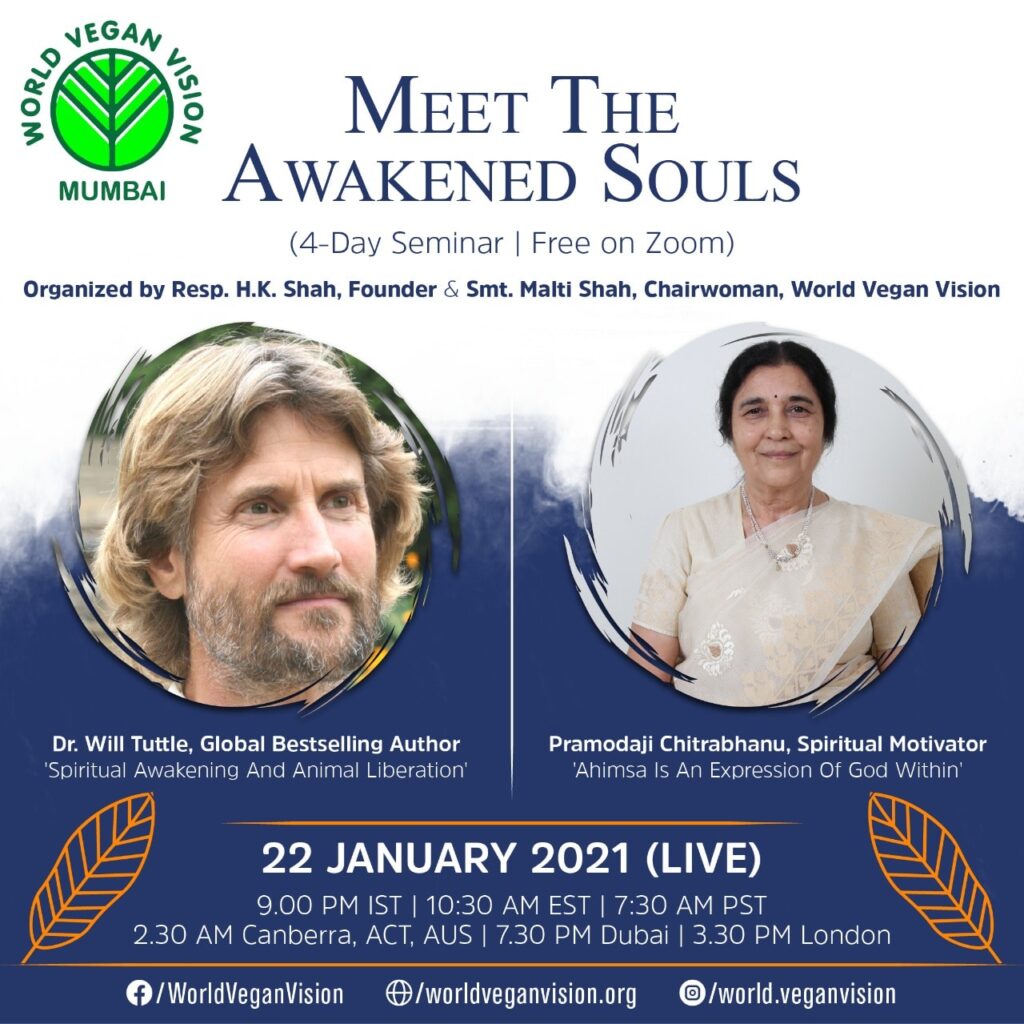 22 January 2021, Friday
• Pramodaji Chitrabhanu, Spiritual Motivator
Title: 'Ahimsa Is An Expression Of God Within'
• Dr Will Tuttle, Global Bestselling Author
Title: 'Spiritual Awakening And Animal Liberation'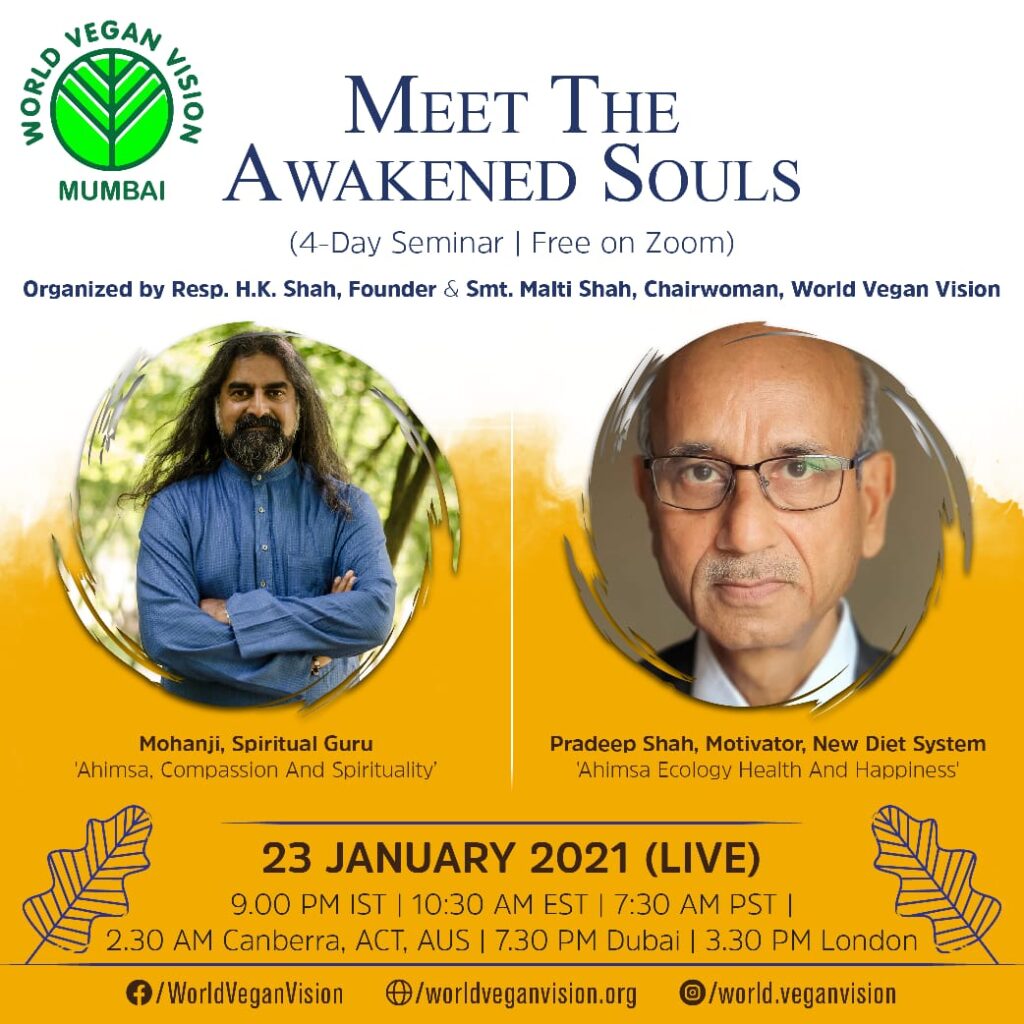 23 January 2021, Saturday
• Mohanji, Spiritual Guru (Recorded)
Title: Ahimsa, Compassion And Spirituality
• Pradeep Shah, Motivator, New Diet System
Title: 'Ahimsa Ecology Health And Happiness'
On the second day of this exclusive online four-day retreat, Respected Mohanji and Pradeepbhai will share deep insights that will change your perception about the life you are living. They will share powerful techniques that will inspire you to reconnect with the food you eat, spirituality and living sustainability that will lift you beyond your body and mind.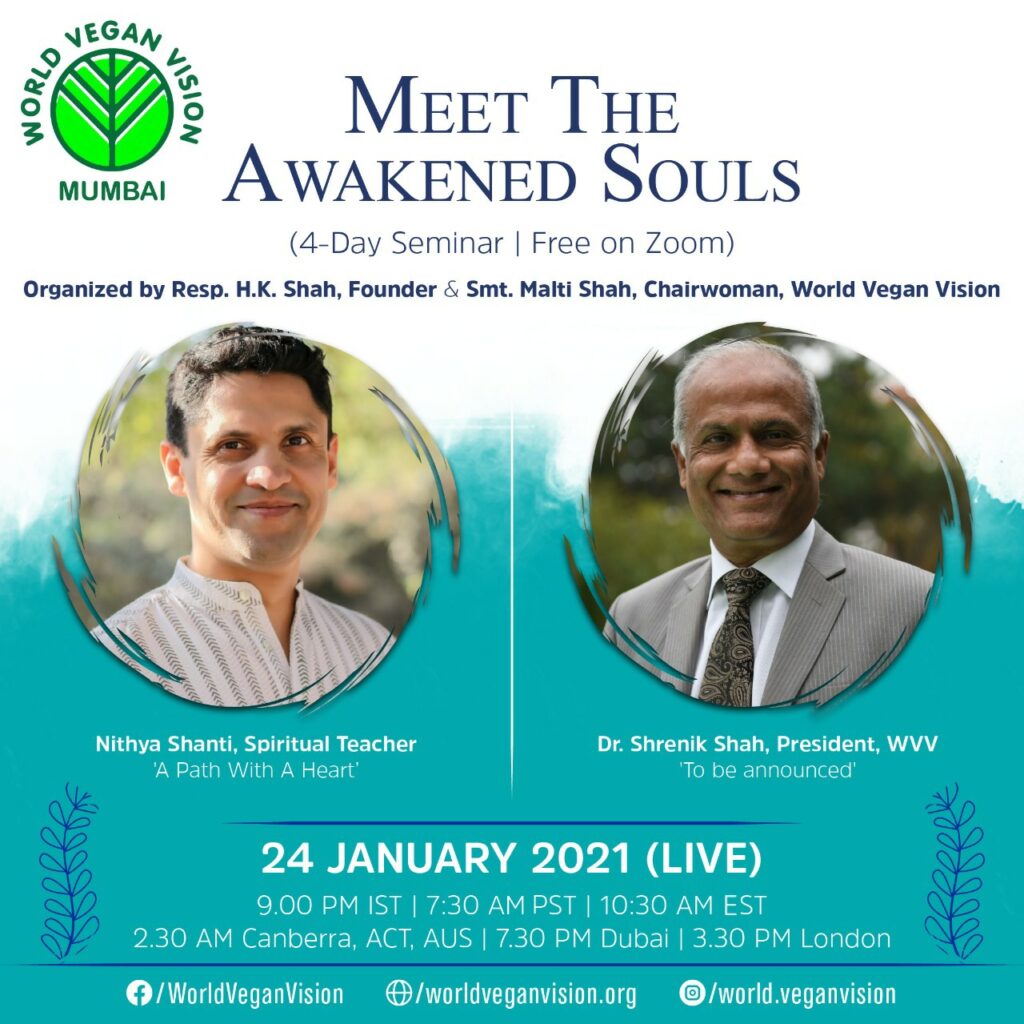 24 January 2021, Sunday
• Nithya Shanti, Spiritual Teacher (Recorded)
Title: 'A Path With A Heart'
• Dr. Shrenik Shah, President, WVV
Title: 'Veganism To Spiritual Liberation – My Journey'
On this day, seminar will feature thought leaders who have personally walked the life-changing path of compassion and are today inspiring others to experience the same. Do not miss this session as the speakers will share valuable insights on how we can advance as a human race by making pragmatic changes in our daily choices.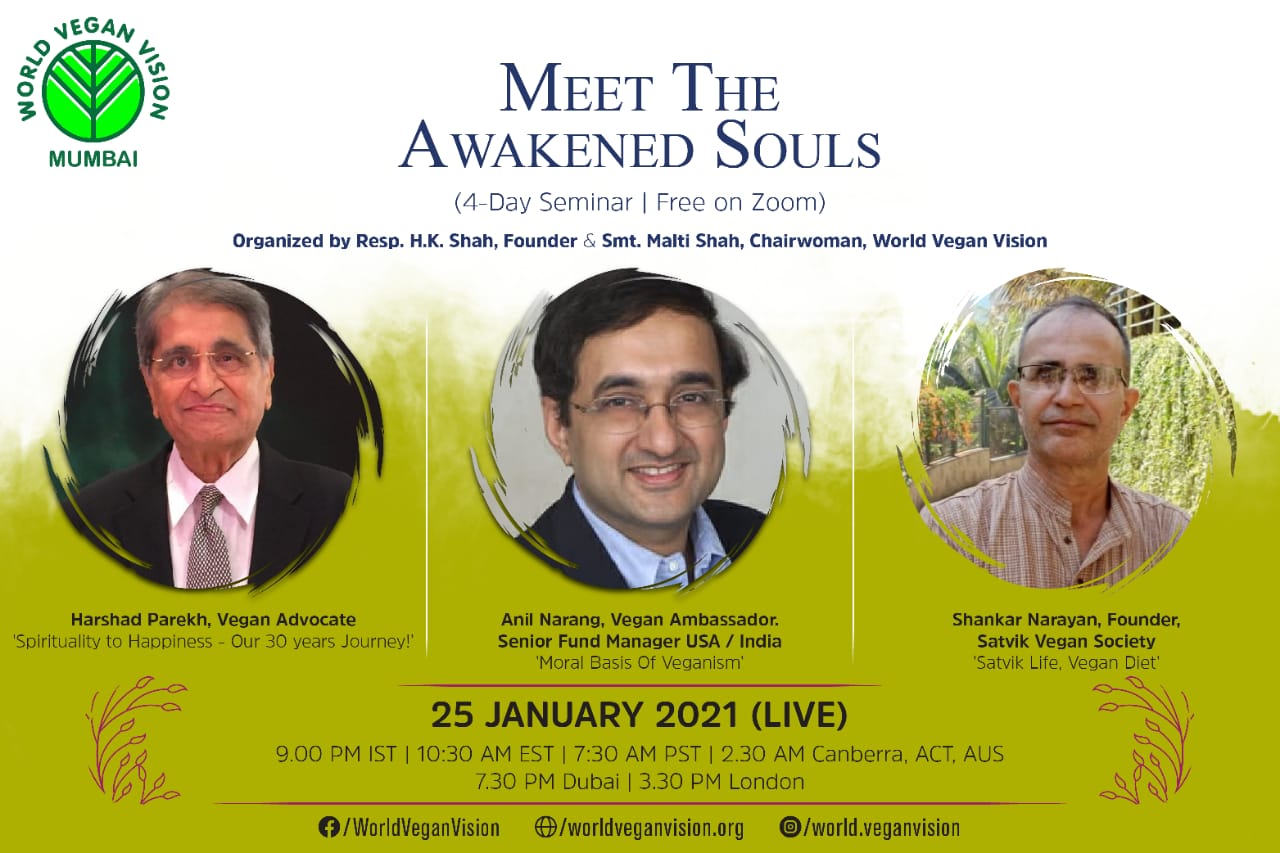 25 January 2021, Monday
• Harshad Parekh, Vegan Advocate
'Spirituality to Happiness – Our 30 years Journey!'
• Anil Narang, Vegan Ambassador. Senior Fund Manager USA / India
'Moral Basis Of Veganism'
• Shankar Narayan, Founder, Satvik Vegan Society
Satvik Life, Vegan Diet
The final day features distinguished speakers who have transformed their personal lives to a great extent. They will share their ideas and inspire all with their positivity and personal insights that can only be developed after decades of selfless living and persistence towards a higher way of life.
Highlights
One of the highlights of the session is that the talks will be moderated by WVV Mumbai Presidents, Mumbai – Dr Rupa Shah and Ruchika Chitrabhanu. Other moderators who will be present are Dr Rashmi Menon, Homeopath & Counsellor and Nandita Kapadia, Managing Editor, Compassion India magazine.
REGISTRATION DETAILS FOR FREE EVENT
ZOOM LINK
https://us02web.zoom.us/meeting/register/tZYkce-hqToiHdH_QYM9h5FngU38NbUNKvvf
Meeting ID: 829 6697 1875
Password: y5NU5Y
9.00 PM IST |10:30 AM EST | 7:30 AM PST |2.30 AM Canberra, ACT, AUS
7.30 PM Dubai | 3.30 PM London
World Vegan Vision
Fb: https://www.facebook.com/WorldVeganVision
Insta: @world.veganvision
Web: worldveganvision.org
#veganism #spiritualvegan #veganspeaker #ahimsa #mindfulness #spiritualawakening #spiritualgrowth