H.K.Shah – Our Chairman and Founder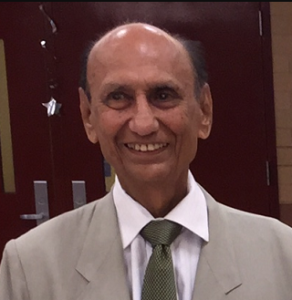 With a strong mission & vision to promote a healthy vegetarian and vegan way of life, Mr. H.K. Shah, Founder & Chairman of the non-profit organization World Vegan Vision, initially known as Vegetarian Vision, has served the community for over 3 decades. A vegan himself, Mr. Shah has been a strong supporter of the concepts of saving the planet, promoting a vegetarian way of life and saving the animals. His entire life is dedicated to the mission to promote vegan food and vegan way of life to younger generation and encourage them to save the planet & animals. It is his hard work, dedication and persistent efforts that during the last 26 years, World Vegan Vision has grown and is known to be a strong vegan organization with community help and participation. He is a strong believer in involving youth to become a part of our mission and goals.
Throughout his life he has supported and collaborated with many other vegan, vegetarian and health organizations and supported their activities. World Vegan Vision takes the lead in collaborating and promoting vegan way of life to hospitals, airlines, schools, educational institutions, community in various ways – by personal participation, programs, food festivals, Thanksgiving dinners, yoga and health events, motivational speakers, fun cruises for youth, youth talent contests like Mr & Ms Vegetarian Pageant, and many other events which are enjoyed by everyone. Under his leadership, the organization has progressively accomplished their mission to convert more people to vegans and vegetarians by advocacy and awareness of health benefits.
Mr. Shah himself is a brilliant example of the benefits of a vegan diet. A lifelong vegetarian and vagan since 2011, Mr. Shah continues to lead an active business and personal life. he attends many events every month and enjoys playing golf every week in good weather.
Malti Shah – Chairwoman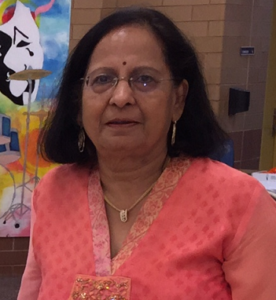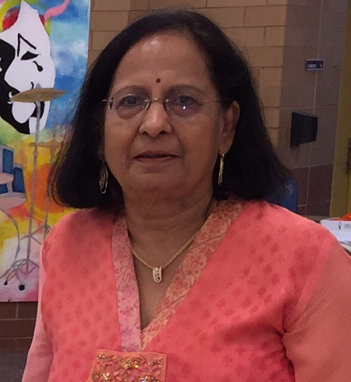 Malti Shah is the chairwoman of the board of directors of World Vegan Vision. Mrs. Shah has shared the vision of making the worldy healthy and full fo compassion alongside Mr. H. K.Shah and has jointly supported the mission. Mr.s Shah leads an equally healthy and active life along side her husband. She is also a very accomplished painter.
Chandra Mehta – Vice Chairwoman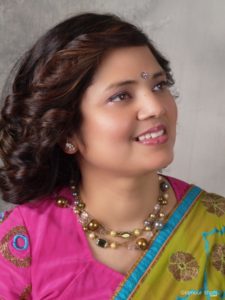 Born into the Jain religious tradition, she has lived a life of vegetarianism and aim to uphold integrity and moral decency. She is the former 1st lady of the Rajasthan Association of North America, owner of multiple Hotels in New York City. She is currently President of Vegetarian Vision, a humanitarian engaged in international philanthropic activity, and an adored hostess of her community.
For four years, she was the cherished 1st lady of the Rajasthan Association of North America during her husband's term as Founder President. She served as the editor for several International Convention Journals, and published Rajasthan Foundation newsletters to promote integration of the Rajasthani Community throughout the United States. She was honored at at India Fest 2012 and at The Association of Indians in America 2015 for her work as a hotelier and her services to the community.
Trendy, creative, and artistic, her tastes in gardening and designing, and innate sense of décor, found their most prominent heights when she helped design the world's largest Staybridge Suites Hotel in Times Square NYC, which she owns with her husband. Her vision of waterfalls, fountains, mirrors, and gardening brought to life the hotel's façade, entrance, and lobby. Her hotel has been entertaining guests now for more than 8 years.
Fond of cooking throughout her life, she is a notable hostess. Her dining tables, resplendent with innovative creations of Indian and Marwari vegetarian dishes, have become famed tales among her guests. As the current President of Vegetarian Vision, she prepared for the organization's recent event her rendition of chakki ki sabji, an ancient vegetarian delicacy of Rajasthan as it appears like meat replacement. She hopes one day to put together cookbook and share her celebrated recipes with the Western society in which she lives.
Kind and humanistic, she is actively engaged in philanthropic endeavors. With her children she has visited and supported orphanages and schools for the blind. Her donations have funded an Eye Hospital and Urologic Research Center in India, established the Nakoda Scholarship Foundation for needy students, and are helping to set up Virayathan School for underprivileged children in India. Recently, she donated to North Shore University Hospital to help advance patient care.
In the last years of her mother-in-law, Chandra Kunwar Mehta's life, Mrs. Mehta considers her greatest happiness in caring for her. She says it gave her a different kind of pleasure that touched her deeply.
She is blessed with two boys, one is a hotelier and CPA, the other is a physician practicing medicine in New York.
Board of Trustees
Kenny Desai
K.K.Mehta