President – Mrs. Suman Munjal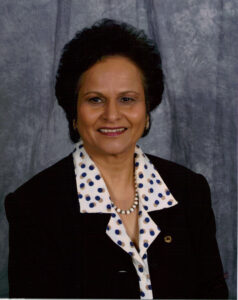 After having served in community based organizations like IALI and AIA, as the first lady along with my husband Gobind Munjal and on the executive committee of Vegetarian Vision for the last few years, I am humbled and honored to be elected as President of the New York Chapter of this renowned 28 year old organization, World Vegan Vision for the year 2021. 
Professional Career & Experience: I have been currently working as Associate Real Estate Broker for over 12 years at the renowned Real Estate Brokerage firm Douglas Elliman Real Estate with 70 offices all over New York Metropolitan Area. I also worked with other Real Estate Firms like; Century 21 and Value Lane Realty. By working in the Real Estate Industry for over 35 years, I acquired an administrative skill set of ethics, discipline, professionalism and organizational skills, which gave me an edge in accomplishing every task. 
My Journey to first become Vegetarian and then ultimately Vegan: About 22 years ago my journey started with becoming a Vegetarian and recently our organization Vegetarian Vision became World Vegan Vision. As I have been serving on the executive committee of World Vegan Vision, I attended quite a few seminars on the advantages of becoming Vegan from the renowned speakers. As I wanted to control my diabetes, it inspired me to try and become vegan a year ago. To my surprise it was not that difficult and I saw the result and consequently last 15 pounds of weight. In addition to that, my sugar started to come down and I reduced my medicine for diabetes. Since the vegan diet reverses heart condition and other serious deseases, Therefore I would encourage everybody to become vegan and reap this benefit.   
Future of World Vegan Vision, and New Initiatives: My vision is to expand the Veganism to as many people as possible. Towards this goal, we need to recruit more people and make them aware of the enormous health benefits of becoming vegan, as well as the recipes and variety of availability of vegan food. We need to work from the grass root and there is a big need for membership drive for the youths and to get them involved. During my presidency, I would like my executive team to work towards this goal. In addition to the regular social functions, we need to organize more seminars and renowned speakers to communicate the advantages of becoming vegan at a young age. We also need to work towards charitable work of feeding the needy and providing essential items of necessity for the poor and deprived people.     
With the cooperation and team work of all the Executive Committee Members, Past Presidents, Board Members, Board of trustees and founders, we hope to have a very successful 2021.
================================================================
Officers and Committee members as of 4/2021