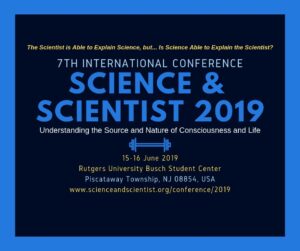 Event Photos
Saturday June 15, 2019 are in this album
Sunday, June 16, 2019  are in this album
Opening Day Video 
To purchase tickets please visit https://www.eventbrite.com/e/7th-international-conference-science-and-scientist-2019-tickets-57800969255
Advance Press Release
A press release event was organized on April 24, 2019 at the Fairbridge Hotel in Somerset NJ. The below documents were released to the press.
View a video clip of the press conference
Photos of the PR Event on April 24, 2019
World Vegan Vision Introduction
Science and Scientist Letter of Invitation for the Press Conference
Speakers from World Vegan Vision
Bob DiBenedetto – President, Healthy Planet
Our Food Choices Can Save The World
Anthony Dissen, MPH, MA, RDN  –  www.AnthonyDissen.com
Prof. Gary Francione, Ph.D – Professor, Rutgers University
Dr. Priti Mehta, MD  –  Gastroenterologist
Anil Narang – Vegan Activist and Finance Professional
Dr. Shrenik Shah, MD, PC   –  President – World Vegan Vision NJ
Dr Shah's Talk at the Conference on June 16, 2019 is below
Uma Swaminathan  – Author and Speaker
Parking
A Special Event parking request has been processed. Your visitors may park in Lots 51, 59, 60B & 67without permits. Guests must use the below link to register for the event. Until this process is completed their vehicles are not registered and your guests may receive a citation. Special event parking and special event permits are only for visitors to the University which does not include free metered parking. Faculty, Staff, and Students must park only in lots they are authorized to park in. If you have a question regarding a special event, please email it to Event_parking@ipo.rutgers.edu to ensure a timely response. If you wish to follow up with a phone call, please contact special events at (848) 932-7744.
MUST REGISTER HERE FOR PARKING