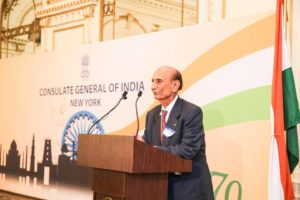 H.K.Shah – Our Chairman and Founder
With a strong mission & vision to promote a healthy vegetarian and vegan way of life, Mr. H.K. Shah, Founder & Chairman of the non-profit organization World Vegan Vision, initially known as Vegetarian Vision, has served the community for over 3 decades. A vegan himself, Mr. Shah has been a strong supporter of the concepts of saving the planet, promoting a vegetarian way of life and saving the animals. His entire life is dedicated to the mission to promote vegan food and vegan way of life to younger generation and encourage them to save the planet & animals. It is his hard work, dedication and persistent efforts that during the last 26 years, World Vegan Vision has grown and is known to be a strong vegan organization with community help and participation. He is a strong believer in involving youth to become a part of our mission and goals.
Throughout his life he has supported and collaborated with many other vegan, vegetarian and health organizations and supported their activities. World Vegan Vision takes the lead in collaborating and promoting vegan way of life to hospitals, airlines, schools, educational institutions, community in various ways – by personal participation, programs, food festivals, Thanksgiving dinners, yoga and health events, motivational speakers, fun cruises for youth, youth talent contests like Mr & Ms Vegetarian Pageant, and many other events which are enjoyed by everyone. Under his leadership, the organization has progressively accomplished their mission to convert more people to vegans and vegetarians by advocacy and awareness of health benefits.
Some schools have changed to healthy vegetarian meals and the organization is working to make a change to have wider vegan food variety available in restaurants, hospitals and major institutions. When World Vegan Vision celebrated its 25 years of successful journey, HK Shah along with his Co-Founder and spouse Malti Shah, invited the community to join and be part of the success celebration by promoting healthy way of life. A two day celebration was held at Penn Plaza Pavilion, New York on September 9th and 10th,2017.
"Our mission is to promote vegan and vegetarian food and vegetarian way of life to younger generations, encourage them to save the planet and animals. We want to involve youth to become a part of our mission and goals.They are our future. We are proud to say that during the last 26 years, we have grown and are known to be a strong organization with your help and participation. We welcome you to join and be part of the success celebration of our 26 years of promoting healthy way of life. Join us today and get an understanding of our mission and vision for several more years to come!"